Description
Please put in the order notes what you would like the switch labels to be utilizing the switch list image
1. Driver Side
2.
3.
4.
5.
6. Passenger Side
The S-TECH Switch Systems™ 6 Switch System designed specifically for the Chevy Colorado & GMC Canyon allows for an OEM look while giving you the ability to control your accessories with a simple, reliable, and easy to install system. 
S-TECH Switch Systems™ are proudly engineered, developed, designed, manufactured and assembled in the USA. S-TECH was born trail riding at 10,000 feet at night for those who insist on the best lighting and a well-engineered and reliable switch system. Each unit is assembled in our Colorado manufacturing facility and 100% tested. It is only then that each unit is provided a unique serial number and includes a "BEST IN CLASS" buyer protection 5-year full replacement warranty. S-TECH delivers solutions to the challenges of off-roading while delivering safety, reliability, function and convenience. Our Made-in-the-USA injection molded, automotive grade ABS switch housing and TTO designed custom plug and play wire harness has the OEM "look" we all want in our vehicle accessories. The look and feel of the S-TECH Switch Systems are second to none.
Includes:
• One (1) Custom Chevrolet ABS Switch Housing
• Push Button Switches
• One (1) Power Control Module Box & Cover
• One Custom Plug and Play Wiring Harness
• One (1) Custom Powder Coated Bracket*
• Eight (8) Nylon HD Cable Ties 50# Tensile 7" Black
• Two (2) 1/4-20 x 3/4" Hex Cap Screws
• Two (2) 1/4-20 Nyloc Nuts
• Two (2) 6-32x3/4 Black Hex Set Screws
• Two (2) 6-32 304 Stainless Hex Keps Lock Nuts
• Fuse tap w/ 15 amp fuse
• Instructions and Link to Installation Video
• Made in the USA Sticker
• S-TECH Switch Systems Sticker
Fitment:
2015+ Chevrolet Colorado (Includes ZR2)
2015+ GMC Canyon
Customer Reviews
02/02/2022
Stephen

United States
Received New Housing
About a week after posting my previous review I found a package at my front door. It was a box containing new housing. This time the housing looks much closer to OEM standards. Thanks for sending out the new housing, s-tech! It looks much better!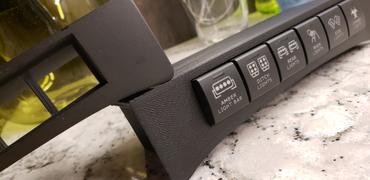 02/02/2022
Colorado & Canyon Enthusiasts
Hi Stephen, Thanks for your feedback. S-Tech is great with their service and we certainly did not want to have a negative experience. Glad the new panel is what you had imagined.
01/23/2022
Stephen

United States
Housing looks very 3D printed
The pictures above are very misleading. The housing looks very 3D printed. The buttons look good. But the quality of the housing looks nothing like the one in the pictures.